I only accept commissions when I have opened slots. I will announce opening commission slots on my social media accounts (mainly Instagram and Twitter, where you can find me as @akelatakawolf), so check my status before contacting me. Also, make sure you have read the Terms of Service before contacting me. Thank you for understanding.
Please do note that the prices below are only tentative, the final price will differ for each project.
Fursuit head; starts at 2150 USD / 2000 EUR
Featuring moving jaw, resin "follow-me" eyes or large toony eyes, static ears, whiskers or a feather crest, and custom-modeled teeth or beak, lips, etc. Also a silicon tongue if it is a "common species" for which I have a pre-shaped mold (e.g., canines, felines, birds, etc.; not an anteater, Venom, or alike). Also includes furring (two colors) or modeled scales and neck with a hidden zipper and airbrushing. All my masks include custom-shaped eyes and customized facial expression to suit the character.
This price is for species or characters that I already have a base for, or built on bases from other makers (may require additional payment if the base needs significant corrections or remodeling). Moderate remodeling of an existing base adds +320 USD / 300 EUR, or you have an option to order a custom-shaped resin head base. Additional price will be added for more fur colors/types or intricate details.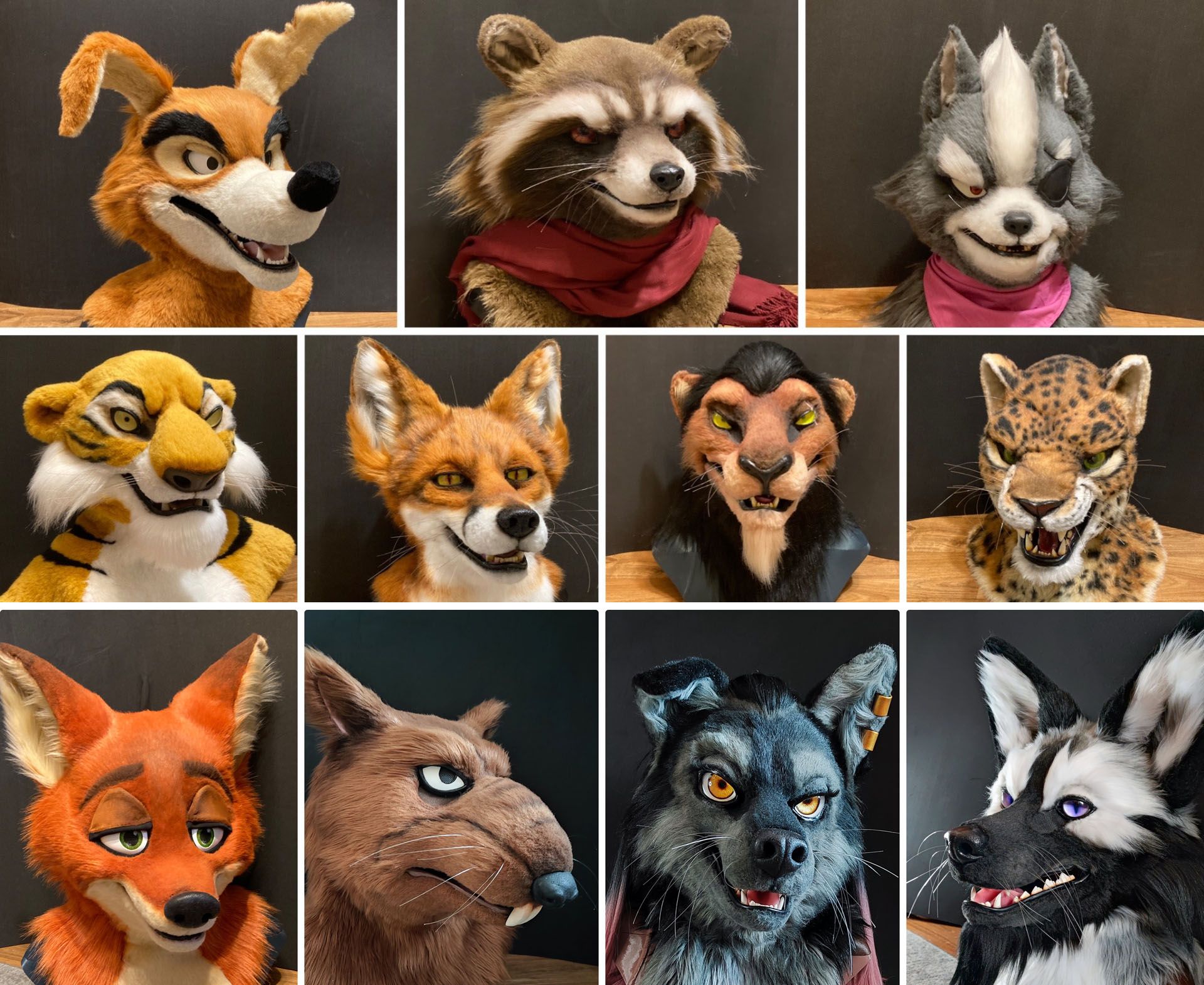 Custom-shaped resin base; Price starts at 970 USD / 900 EUR for models that I will later reuse, or 2040 USD / 1900 EUR for models used exclusively for/by the client.
This includes custom-shaped clay model that will be turned into a silicone mold and resin-casted base. You will receive a fully cut and hinged head base. Add-ons such as custom silicone tongue or resin teeth and eyes can also be purchased.
I can also make custom sculpts of any other kind, e.g., for cosplay props! The example below is a goat sigil of Master Xehanort's keyblade from Kingdom Hearts.
Upgrades
- Adjustable ears: 80 USD / 75 EUR
- Horns, wigs, kanekalon hair, beard, etc. - price depends on the project
- Detachable parts (e.g., eyebrows or eyelids), accesories (helmets, armor, glasses, colars, scarf, etc.) - price depends on the project
- LED lights, fan, etc. - price depends on the projects. Do consider, however, that my resin heads are usually smaller than foam heads and such add-ons may limit vision or the inside space of the mask in a way that it may be less comfortable.
- Anything else: If there is something you have in mind, don't hesitate to ask! I am always opened for new challenges and I will do my best to consult the possible options for your character!
Tails
Medium-sized super-motion tail (wolf or cat length) - 200 USD / 180 EUR when ordered together with the head, or 300 USD / 280 EUR if ordered alone. This kind of tail includes a foam "skeleton" that will allow for natural fluent movement of the tail with your body. This price also applies for "up-build tails" with wires.
Small-sized (rabbit, deer, bobcat, etc.) "regular" tail - 50 USD / 45 EUR, only with the head
Medium- sized "regular tail": I usually don't do these, but if you insist on such a tail and you ordered a head, it will cost 100 USD / 90 EUR. Don't order separately.
Hand paws:
Four-fingered, slim toony paws (toony hand style without paw pads): 215 USD / 200 EUR or with paw pads: 320USD / 300 EUR
Five-fingered realistic paws (FoxFire Fantasy pattern) with minky paw pads: 320 USD,/ 300 EUR
If ordered without a head, add price of the fur.
Feet paws (only with fursuit head)
Outdoor feet paws based on shoes of your choice with rubber sole: 430 USD / 400 EUR.
Indoor realistic feet paws (FoxFire Fantasy pattern): Price will be set soon.
Silicone parts
I do offer custom-shaped silicone parts such as pawpads, noses, and tongues! While the price of a silicone part that I already have a mold for is low (about 17 USD / 15 EUR), custom-shaped ones are much more complicated to make and the price will vary depending on the complexity of the project. E.g., a custom-shaped tongue that's up to 10cm long may cost about 150-200 USD / 130-180 EUR, while a huge tongue may cost 500+USD / 450+ EUR because the materials are very expensive.
The final product can be dyed with any desired color (rainbow or combination is also possible) and, if you want more than one piece, the price will be much lower for any additional piece made from the same mold.
Please do note that this pricing applies to molds made-to-order that may be reused later for future projects or offered at shops. If you want a unique piece made exclusively for your own use, add 320 USD / 300 EUR to the price.
Materials used
I only use the best quality materials - often I use Smooth-On products or products made by local (Czech) companies that match the quality. For parts such as teeth or claws I use the air-drying polymer clay WePam which is almost indestructible, because it is strongly flexible (see this YouTube review to find out more about the clay! https://www.youtube.com/watch?v=zhrnCsDZQGU&t=162s ), and will rather bend (and then return to it's original shape) than break. It is also much more lightweight than Apoxie sculpt, another very good clay, which I only use for some small retouches because of it's weight.
For the resin eyeballs I use high quality UV resistant resin that will last very long without color fading.
When reshaping the base I use either an upholstery foam or a lightweight air drying clay (such as Hearty Clay). This means that I can do significant changes to the shape without adding much weight.
If you want the most lightweight option possible, you can pay extra for a Freeform-Air base. Such base will be strengthened with Smooth-On Onyx resin so it will be very durable, but still more lightweight than regular bases. Recommended mainly for bases with long noses that stretch a long way in front of the head because it will make wearing the mask much more comfortable!
If you have any inquiries about specific materials from which you want the mask to be made, etc., don't hesitate to ask. When possible, I can adjust my work to the commissioner's needs!
Questions and Answers:
Will you do full bodysuits?
No, I don't do these. Resin masks are small when compared to the usually huge foam heads, so they are perfect for partials and the tail and paws match the size. Because of it, they are excellent for wearing with your usual clothes or a cosplay costume and will look natural on you. If you are thinking about ordering a fullsuit to match the head from another maker, please do keep in mind that your character may look unproportionally shaped with a small head and very large body.
Will the mask fit my head?
The resin masks are small when compared to foam masks, but still suitable for most head sizes, because they include an adjustable strap to ensure a good fit. However, for the moving jaw to work correctly, you may be needed to adjust the padding of the chin and forehead. You will receive all instructions to do that together with upholstery foam and cover fabric to ensure comfortable wear.
How long will the costume last?
It depends on the frequency of wearing, but with proper care, your costume should serve you for many, many years. I am only using the best materials and I always choose the more complicated options of the creation process if that makes the costume more durable, comfortable, or lightweight. For example, I prefer using resin eyes for realistic heads - they are much more complicated to create (than just buying glass ones - here in Europe it is almost impossible to buy resin ones), but are lightweight. Similarly, I prefer using the WePam modeling clay over other clays such as Apoxie sculpt - it is harder to make the desired shape as the clay looses its volume when drying, but the result is more durable and lightweight than with Apoxie (a sculpting clay used by many makers).
Another example is whiskers - instead of just gluing them into the fur after the completion of the furring, I seal every single whisker onto an aluminium foil and push them through the back side of the muzzle fur so they are firmly attached and do not fall so easily.
Are the costumes lined?
No, I do not line the costumes - resin heads without a lining have more air and can be cleaned and sanitized more easily. I only cover the areas that touch human face with a soft, comfy piece of cloth so the foam does not scratch. Similarly, I don't line the hand paws nor the arm sleeves as that would again only make the sleeve less airy and more hot. If you dislike the feel of the somewhat rough backside of most faux furs, I recommend wearing thin gloves and a functional t-shirt underneath. This option also makes the fursuit parts last longer and allows for easier cleaning.
Is the vision in the masks good?
Well, this depends entirely on every project. As a competitive cosplayer, I usually exchange good looks for worse vision (e.g., I have bad vision but the fursuit looks really great). On request, this trade-off can be pushed towards better vision - e.g., a character with toony eyes can have the whole white area filled with vision mesh, or only the black pupils. The first mentioned option offers great vision but the eyes are less aesthetic, especially from closer view. However, I always put maximum effort into making great mouth vision (when your mouth is opened): when modeling the upper teeth, I never put inside the upper floor of the jaw. It's never visible anyways and it only obstruct the mouth vision. Still, do have in mind that some build-in features may also obstruct vision, such as added LED lights or adjustable eyelids (on realistic fursuits with resin eyes).
Is it worth to order a custom-modeled resin base? What is the difference between this and a re-shaped base?
This again depends entirely on the project! If you want a character that has a typical, expressive head shape, and you want the costume to be as similar to the reference as possible, the best option is to go with the custom-modeled base. To see an example, check out my Wolf O'Donnell, Rocket, or Don Karnage cosplays.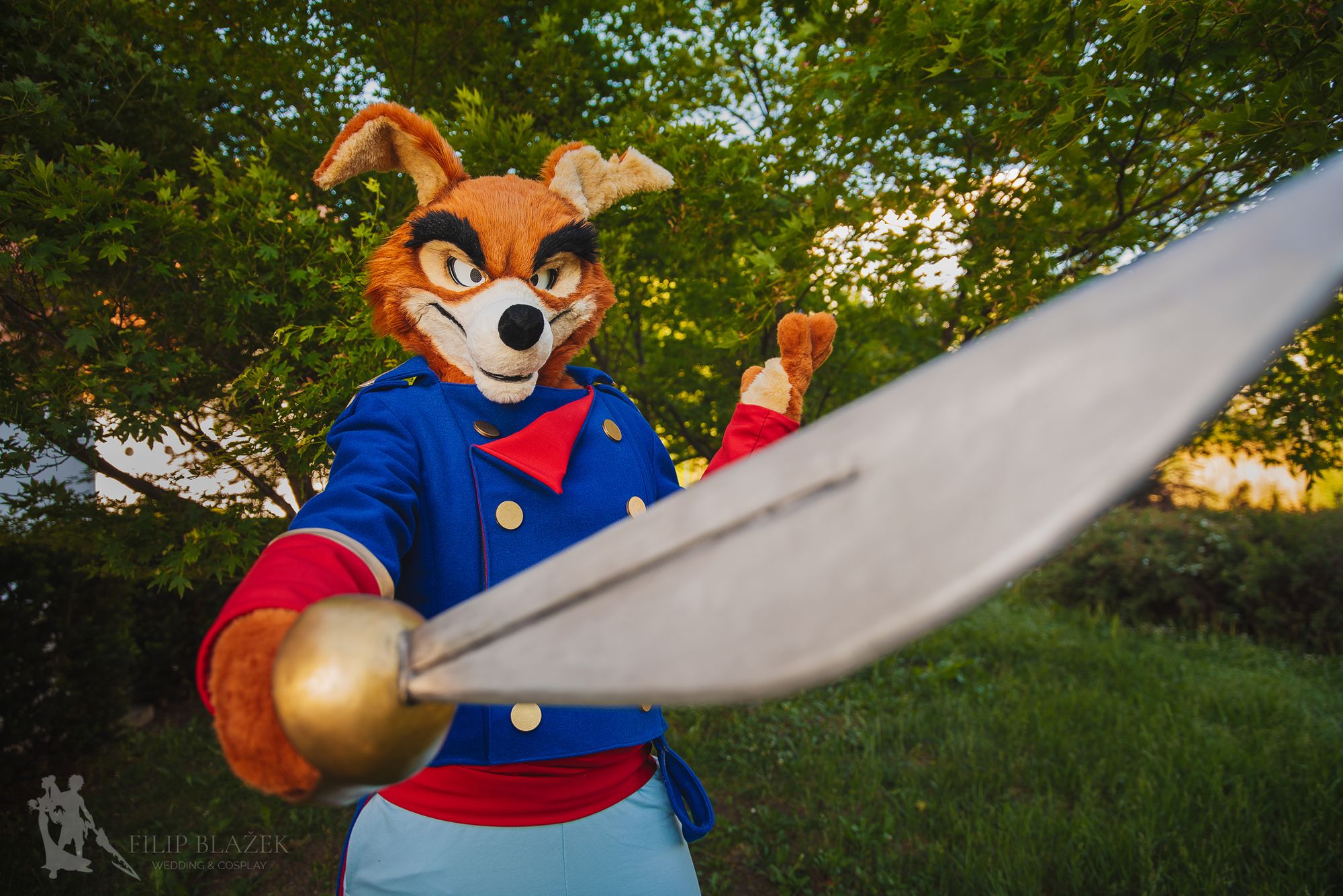 Wolf O'Donnell, Rocket Raccoon and Don Karnage: all these cosplay suits were built on a custom-shaped base, which allows for the best accuracy.
On the other hand, if you don't insist on accuracy, and rather want an original interpretation of a specific character, or want a realistic or semi-realistic version of a specific, toony character, you can choose the option to remodel an existing base. For example, check out my Scar cosplay which has been build on a remodeled base of a realistic big cat. Similarly, I can make slight reshapes of existing bases to create a different animal (e.g., to remodel a fox into a wolf and vice versa).
Scar and Shere Khan cosplay cosumes: Semi-realistic take on the well-known Disney villains. These fursuits were both built on the same realistic big cat base that was reshaped after casting to resemble each of the characters.
Why do I have to pay 900 EUR for a custom-shaped base that you will later sell to other people, who will buy it for much less, like 140 EUR? That's unfair.
Because you are not buying just the 140 EUR - worth mask. You are buying my time and expertise to create a mask that will be made exactly as you want it. In fact, because I will sell it later, I can offer to make a custom-shaped base for this amazing price.
Let's see what is covered in the price: I do not model the bases digitally. I use clay and silicone molds, which means that you don't only pay for my time, but you also pay for the materials. For one head mold, I need to buy 700 EUR worth of materials (!). These materials will last for 2-3 heads total, but I still need to buy it for your one mask.
This leaves 200 EUR for my work. Making the model, mold, and cast, that takes a lot of time, and all the work takes usually takes about a month. Now imagine I only received the 200 EUR for a month-worth of work! Here where I live, the minimum monthly wage is around 730 EUR (17000 CZK in 2023). As you can see, this would be unaffordable and I would not be able to accept your commission at all. But because I usually have some reserves, I can afford to INVEST into a product that I will later sell, and, concurrently, give you a great discount. If you still prefer to have a mask that will be made exclucively for you, you can allways choose the more expensive option!
Why do you still in 2023 make expensive clay models and silicone molds? Use 3D printing instead.
I do use 3D printing in some cases. For example, I make 3D printed eyes. However, for mask bases, I found out resin bases are better (or at least they work better for me). Here's explanation why:
The first and most important reason why I use resin casts is the fine surface texture. I'm stickler for detail, and in case of 3D print, you will always have the printing lines texture on the surface. This texture can be smoothened with some effort, however, that will also smooth any texture that you would like to keep on your mask - like the texture that dogs and cats have on their noses! And believe me, this texture makes a great difference on the final costume.
Second reason is that when selling copies of the blank, which I do (you can buy most of my resin blanks in our eshop), making the copies is much faster. Also, material-wise, much cheaper (the mold is very expensive, but the copies are cheap; you pay mostly for our work when buying a casted resin mask).
Third reason is that reshaping and editing the mask on-the-go is much easier with resin that you can cut and dremmel without melting the material. Sure, when making a unique digital 3D mask, you can plan ahead and make the edits before printing. But often (almost all the time, actually) you can find out that something is off after-printing (casting) or you change your mind in how you want the character to look like, and that's when editing is much easier with resin.
Do you ship worldwide?
Yes, I do! I am located in the Czech Republic, but I can send the finished suit anywhere in the world, with the international shipping to be around 40-60 EUR (with full insurance). If you live outside of the European Union, however, do your research and know the customs/import fees or taxes that are involved with receiving an expensive item from the EU and plan accordingly.
What kind of payment do you accept?
I accept payment through Paypal and money bank transfer.